Before I proceed with this post, let me tell you - I have won my first giveaway through blogging!!! :) :) When Vineetha from
Malabar Ruchi
announced
her first giveaway
after five years of blogging, I gave her a very honest feedback. As far as blogging is concerned, I really feel that the content of blog is always the choice of the blogger. I should say that I absolutely love her blog, for its simple contents, lovely pictures and most of it all, for the lovely person she is!!! When she messaged me mid July that I was the winner of the giveaway, I was really thrilled. She couriered it to my home address in Kerala and eagerly waiting for my B, who was on his little vacation enjoying the rains at home, to come back so that I could get hold of that lovely thing. And it was lovely indeed! My umma thought it looked absolutely cute. People back home were really curious to know what was inside the pack! Hehe... Thank you so much Vinee for that lovely giveaway... Absolutely loved it!!! :)
One of the major staples in our cooking is puttu - or as it is called in English, steamed hot cakes. This reminds me of my D's old story. While in college (in 70's), he and his friends went into a hotel and were looking through the menu to order for something which was within 25 paise per person. At that time, it was a big amount! Searching through the card, they found one item which fitted into the budget and it was called "Steamed Hot Cake". D and friends expected something new to come to their table and instantly ordered it, only to see three "kuttis" (the cylinder of the puttu maker) of puttu coming their way!!! :D
I have never been fond of puttu made with the powder that you get to buy from the supermarkets. How much ever I mix them up with water, even if I steam it for half an hour, the time I push it out of the cylinder, it comes back in the same form as it had gone in!!! That is when the lazy me decided to learn my umma's method of making puttu. A little bit of work, but then what you get is really worth it! Since then, there has been no turning back. We make this every two weeks and it has always turned out well every time. So here I am sharing it with all of you... :)
Puttu - Steamed Rice Cakes
Serves 4-6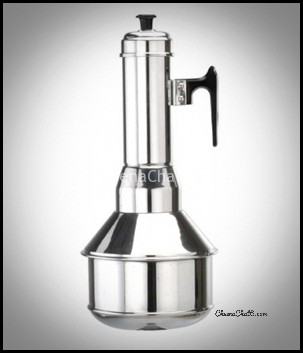 Picture courtesy: CheenaChatti
1 1/2 cup matta rice
1/2 cup pachari (dosa/ idli rice)
Salt as per taste
6-8 shallots chopped
Grated coconut for split
Method:
Wash well and soak both the rices together overnight. Drain in a seive and leave it for an hour till most of the moisture is gone. Some moisture is required to keep the "puttu podi" binded, so do not make it really dry.
Grind the rice into a coarse powder with a pinch of salt in your mixer. Chop the shallots and add into the ground powder.
The process...
Heat water in the puttu steamer. Layer the rice flour, with a thin layer of grated coconut and continue to the top layer. Steam the puttu till done - I put the flame on high till the vapor comes from the top and then steam on low flame for 10-12 minutes till done. Push it onto a plate and serve warm!
Puttu goes well with black chana/ kadala curry, cherupayar/ moong bean curry and ripe mysore/ large bananas with sugar!